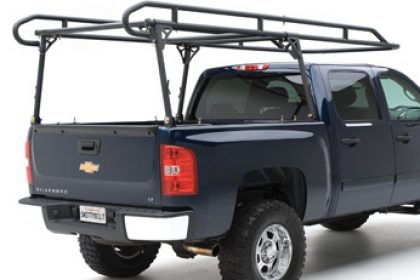 If your like the masses your wondering what types of truck racks are available out there!
Here are Six Categories of Truck racks with descriptions:
Cab Racks
Cab Racks help protect the rear of the pickups cab area while providing a resting area for precious cargo. Available in steel and aluminum, with or with out mesh and some styles are available with safety lights.
Ladder Racks
Transport ladders and other longer loads on your pick up truck without using up valuable space in your truck bed with truck ladder racks.
Lumber Racks
Lumber Racks are a heavy duty solution to hauling heavier loads. Most racks offer a 1700 lb capacity and welded steel construction. These racks are application specific and typically are require drilling in your truck bed.
Professional Racks
Professional truck rack systems are designed to help you carry ladders, lumber, kayaks, canoes and anything else you can think of safely and securely. Damage free installation and light weight heavy duty construction make these the most functional and best-looking truck rack systems on the market. These Racks offer optional accessories to carry anything you need to work hard and play hard. valuable investment that is sure to last you through the life and can be moved from truck to truck!
Roof Racks
Roof Racks provide a method of transporting cargo carriers, Baskets, bike and ski racks and other precious cargo on the roof of your car,mini van, suv and cab of your pick up truck. We offer various roof rack options including, a clamp on style that is contoured with an application specific fit kit, track systems that require drilling and allow you to adjust the feet where you need them, and permanent "factory style' racks that include bars that run across and side to side and are available in gun metal grey or black powder coated aluminum.
Camper Shell Racks
These Racks allow you to utilize precious cargo space on the top of your shell. There are several styles of racks with different load capacity ratings. Some of these mount under the shell and wrap around the camper and go over the cab, and the others mount directly to the cap either in a track system or heavy duty drill  through.
Rest assured at Mobile living 1420 Concord ave concord Ca 94520 We have got exactly what you need!
Give us a call at (925)689-5454 or visit us on the web and fill out a quote request www.teammobileliving.com
Servicing the san francisco bay area for nearly 50 years!