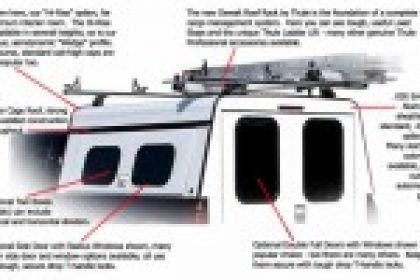 DCC Deluxe Commercial
LEER makes a complete lineup of caps with strong but lightweight TIG-welded aluminum frames and tough .035 aluminum exteriors, under the famous LEER DCC brand name.
Because the needs of commercial users are so specialized, each LEER DCC is a custom production using the standards and options best suited to your business requirements. Rear doors, side doors, tool boxes, shelves, dividers, roof racks lighting and other options are available in a wide range of sizes and styles. You can even specify the height and shape of your DCC: Cab-high, "Wedge" and Hi-Rise profiles are available.
Standard Features

Super Cage Roof Construction with Integral Mounting Rail
.035 Exterior Smooth Aluminum
LEER Limited Lifetime Structural Warranty
Heavy-Duty TIG-Welded Frame Construction
LEER TIG-Welded Ladder Rack with 6-Position Mount
Solid 1/2 Rear Lift Door with Gas Props
Stainless steel drop T-handles and three-position locking
Solid Sides
Solid Front Wall
Black Trim

Skin available in these standard colors:

Polar White
Black
Custom Paint in most current truck colors is available as an option

Cab High Height

LEER DCC Standard Cab-High height is 23″

DCC Wedge Heights

For Compacts: 20″ to 25″ Wedge
For Full Size: 23″ to 30″ Wedge

Hi-Rise Heights

OptionsUpgrade to .040″ aluminum skin

Front Options

Rectangular front picture window
Rectangular front sliding window
Radius front picture window
Radius front sliding window

Side doors (66″ or 82″ long)
for DS or PS
Double side doors
(40″, for 8 ft. beds only)
Side door windows
(2 24″ x 11″ per door) for DS or PS
Radius side windoors for DS or PS
Radius side sliding windows
for DS or PS

66″ toolboxes, 66″L x 16″H x 12″D,
for DS or PS
82″ toolboxes, 82″L x 16″H x 12″D,
for DS or PS
Horizontal shelf for toolbox, DS or PS
Vertical divider for toolbox, DS or PS
Fold-down workshelf for toolbox,
DS or PS
Rubberized non-slip mat for toolbox floor

Radius window for 1/2 rear door
Flush-mount full double doors w/drop T-handle, 3-position locking
Long radius windows for full double doors

Roller rack – black powder coated
Dewalt Commercial Rack System and Accessories by Thule
Vanterior extension ladder rack (holds one ladder)
Vanterior double extension ladder rack (holds two ladders)
Vanterior extension & stepladder rack (holds one of each)
Boltplate reinforcement for aftermarket rack

Additional Options

Carpet headliner (choice of grey or shadow black
12V dome light(s)
Battery-operated dome light(s)
Interior storage rack
(8.5″ x 16″ or 5.5″ x 16″
Third brake light
Security screens for window protection
Dupont base coat/clear coat automotive paint