Trimax Receiver Locks
Provides instant security for your camper, boat or trailer by securing your vehicle receiver hitch. Features patented 1/4 turn technology that cannot be false locked.
A receiver pin is used to secure the receptacle part of a trailer hitch (attached to a vehicle) to inserts such as ball mounts, drawbars, accessory carriers or ornamental receiver plugs. The most common receiver pins are 1/2″ and 5/8″ in diameter. Class II receiver hitches have 1-1/4″ receptacles and use 1/2″ pins. Class III, IV and V receiver hitches have 2″ receptacles and use 5/8″ pins.

Description
SXT3 Premium 100% Stainless Steel 5/8″ Key Receiver Lock 2-3/4″ Span
5/8″ pin fits all Class III, IV and V receiver hitches. Premium 100% stainless steel.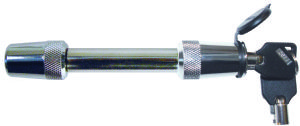 T5 5/8″ Chrome Receiver Hitch Lock 3-1/2″ Span
5/8″ Chrome Receiver Hitch Lock.  NEW extended 3-1/2″ span fits new wider Toyota, Ford & Chevy Truck
MAG125 TRIMAX Resettable Combination 1/2″ Receiver Lock 2-1/2″ Span
1/2″ Pin Fits 1 1/4″ x 1 1/4″ Receivers (Class II).  Heavy Duty Collar Overlaps Hitch Pin For Unmatched Strength and Security.